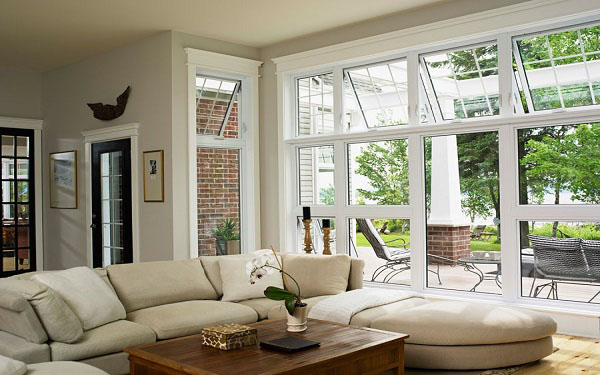 Awning Windows
Easy Ventilation, Rain or Shine
Awning windows have a single sash like casement windows but are hinged on the top rather than on the side. They have a hand crank that opens and closes the window horizontally on a metal track. Ease of operation makes this window style a great choice for hard-to-reach places, such as over countertops and sinks, and in bathrooms. Awning windows are popular in part because they can be left open during inclement weather. Since the window hinges outward, creating an awning-like effect, the home interiors are protected from rain.
Basement Hopper Windows
Ideal for ground applications
They are bottom hinged and open inwards for ventilation with the sleek design you desire. Basement windows are the perfect way to enhance your curb appeal.
Basement Hopper Windows offer the ventilation you need with the sleek design you desire. Cam handle locks provide peace of mind. Sash release chain makes it easier to clean your windows. The solid vinyl construction will not chip, peel or rot and never require scraping or painting.
Increased Energy Efficiency
Increase Condensation Resistance
FREQUENTLY ASKED QUESTIONS
What IS a 'replacement window'?
The term replacement window is used to distinguish our windows from those made for homes being newly built. Typically, replacement windows are NOT made in standard sizes…but instead,
are each built to specific, custom sizes to accommodate your home
. All Window Depot USA windows are made to
custom sizes
, to fit your home.
How much do replacement windows cost?
According to the 2020 Cost vs. Value Report, published by Remodeling Magazine, the average price for a high quality vinyl replacement window, across the US was approximately $1, 764.00.  You can see this report here:
But here's the great news:
Because of our tremendous national buying power, Window Depot is able to offer you the most highly efficient products available (proven with U.S. Dept. of Energy Data) at a fraction of this average price.
Not only that…but one of the reasons we're growing so fast, is that we are America's Triple Pane Company.  Our prices for our triple pane technology are often LOWER than our competitor's dual pane prices.  Wow.
We'd love to provide you with a no-obligation price quotation.  Down to the penny and good for one year.  Contact Us Today.
What about all the companies that advertise $189 for any size installed?
In the last several years, you've probably seen a few companies across the country that have advertised like this.  There are a couple of important things to remember and consider.
FIRST: Providing even a "ball-park price", "upfront"…is a recipe for disaster.  There are a great many variables to consider when replacing windows.  Energy Savings, Design and Aesthetics, Carpentry and Construction, Warranty, etc…  In many instances, the "upfront" price ENDS UP a great deal higher…after factoring in exactly what you need and want for your HOME.  This can seem misleading, and be quite upsetting to homeowners who expected a certain price "upfront".  We choose not to conduct our business in this manner.
SECOND:  When was the last time you received great service and a great product from a company that went to market as the absolute cheapest? Our guess is NEVER. There is a HUGE difference between cheap prices and FAIR prices. Window Depot USA offers the best combination of price and value in the industry because our prices are incredibly affordable. Our prices are fair…not cheap.
You may also like this article: Replacement Windows for $189?
Color Options
Beauty and Vision, Performance and Strength – it all comes together in Mezzo"s exciting collection of styles, colors, and custom accents. Our FrameWorks® exterior colors feature a cutting-edge polyurethane coating technology with heat-reflective pigments for a remarkably strong and fade-resistant finish. Interior woodgrain laminates are performance-engineered for superb durability that maintains its attractive appearance over the life of the product.
Grid Options
Decorative grids lend an added measure of style and dimension to your windows. All grids are enclosed within the insulated glass unit for easy cleaning. First, select a grid pattern from one of our four styles, and then choose a grid profile to achieve your ideal finished look.
No Company Can Provide You With More Features at a Better Price
Unique Performance Features from Window Depot USA
The beauty of our EdgeForce narrowline frame and sashes is subtle and substantial at the same time. The sleek design is visually clean and contemporary, with a larger glass area for exceptional daylighting and outside viewing. And beneath the elegance? Internal chambers are meticulously engineered for structural integrity and enhanced energy efficiency.
Improved form and functionality is the focus of our Ocular screen bulb seal. The compression bulb aids in the installation and removal of the extruded aluminum screen. The snug fit also eliminates light penetration between the screen and frame and helps block insect access.
CoreFX is a structural component that never quits. This innovative composite reinforcement allows for secure mounting of hardware and the non-conductive material also reduces the transfer of energy for superior thermal performance.
Stylish and strong, this low-profile secure locking hardware features an indicator that tells you if your windows are left unlocked. But the true beauty of Defense-Tek is its end-of-throw cam shift locking action, expertly constructed for increased protection.
Forecaster elevates both the appearance and performance of Mezzo Windows with its smooth, uniform design. The true sloped sill is expertly crafted to provide a highly efficient drainage system that promotes water runoff without the use of weep holes.
The benefits distinction here is three-fold: protection from air and water infiltration, increased structural stability and enhanced beauty. The integrated telescoping sill dam effortlessly blends strength with style.
When extreme wind and weather hit your home, Gatekeeper stands strong. Traditional sloped sill designs can allow the sash to bow during powerful winds, but with Gatekeeper interlocking sash-to-sill technology, the sash is channeled firmly into the window frame for a unified wall of strength. Combined with three layers of weatherstripping, Gatekeeper delivers unmatched protection, as well as peace of mind.
The Power of Glass
The glass system in your windows can make a substantial difference. For example, Mezzo Windows with triple-pane ClimaTech ThermD TG2 glass technology are 52% more energy-efficient than clear double-pane windows. In the chart below, U-Factor represents the rate of heat flow through the window – the lower the U-Factor, the less energy is needed to heat a home. SHGC (Solar Heat Gain Coefficient) represents solar heat penetrating through the window – the lower the number, the more you'll conserve on air-conditioning